Whether it's after a long workday or catching up with friends and family, drinks are usually involved. There are many places to unwind near Dallas but nothing quite like this experience! Sips After Sunset at World of Barbie is an adult-only experience that offers a fun, bright space to enjoy some unique cocktails.
Located at Stonebriar Mall At The Bridges located at 2605 Preston Rd., in Frisco, Texas. This limited time event is taking place in December and tickets are on sale now!
Some fun and bright libations include the Pink Drink  which has tequila, triple sec, pink grapefruit and lime juice. Drink up a Malibu Sunset which includes vodka, pineapple and cranberry juice. Prosecco, Rose and Sauvignon Blanc will also be available!
Along with enjoying these yummy cocktails you'll be able to roam World of Barbie after hours. Hit the dance floor after you've loosened up with some drinks!
There is so much to explore, including a Barbie museum and everywhere is an iconic photo-op. Plus, you can do some shopping to snag exclusive merchandise!
Don't miss World of Barbie after hours!
Don't believe us? Check out some reviews from delighted guests from other cities:
"Ladies night out was so much fun here! So many photo opps, free refreshments and tasty sips!" -Colleen B. 
"It was fun! Snacks were good. Bar options are perfect. I liked the can of Barbie lemonade the best." -Melissa H. 
"So cute and everyone was so friendly! I got drinks and magnets, but the set up for pictures and learning about Barbie was so awesome by itself." -Annie P.
"Cute and fun. Recommend for all Barbie lovers. Event was organized, staff friendly and great photos ops." -James H. 
"Soooo much fun! Worth every penny! Make sure you pace yourself! It's easy to run out of time! It's so big!" -Hannah A. 
Sips After Sunset at World of Barbie in the DFW area is only available for a limited time on December 7th! Tickets are $45 to enter and drinks will be available for additional purchase (not included in ticket price). This is a 21+ event.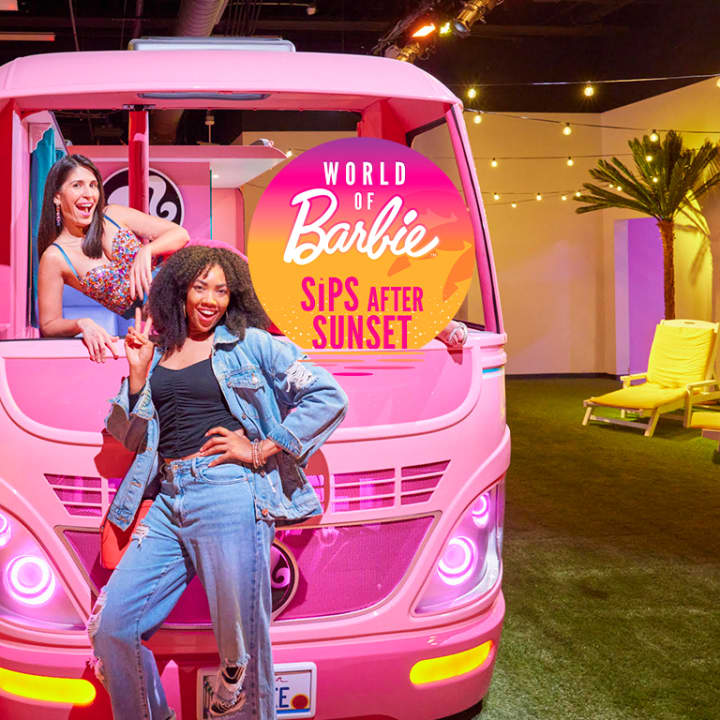 Sips After Sunset at World of Barbie
---