There are twists, turns and much to discover at Harry Potter: A Forbidden Forest and it's finally open at Little Elm Park! Get tickets to this magical adventure, it's only open for a limited time. The trails will be illuminated and along the way, aspiring wizards will stumble upon some familiar creatures and surprises.
Don't miss this Black Friday deal! For a limited time, use the code HPFFBF25 to get 25% off a standard ticket when booking from Nov. 24th to 27th!
Don't forget to bring your most trusty wand, there will be many spells to cast! Get tickets before they vanish!
The event is inspired by the forbidden forest in Harry Potter and the Fantastic Beast series, so there will be many photo-ops with a wide range of mystical creatures. You'll be able to see Centaurs, check out a Hippogriff and even catch a glimpse of some cheeky Nifflers.
After you explore the forbidden forest, you'll be welcomed with Butter Beer!  Enjoy food and drinks and merchandise at The Village underneath the night sky.
Go on this magical journey to Harry Potter: A Forbidden Forest and be sure to snag tickets before it's zapped!
To plan and navigate your Forbidden Forest experience download the Harry Potter: A Forbidden Forest app! Download it here before you head to the event, as it activates special interactions with the experience's forest surroundings, it's designed to work within the trail location.
Additionally, you can create unique photo opportunities with camera filters. You can play unique games and quizzes on your way to the experience and enjoy special promotions and information about your Forbidden Forest visit as well!
This magical adventure is located at 701 W Eldorado Pkwy in Little Elm. This makes for the perfect getaway from the city. There are a wide range of tickets and family bundle rates available.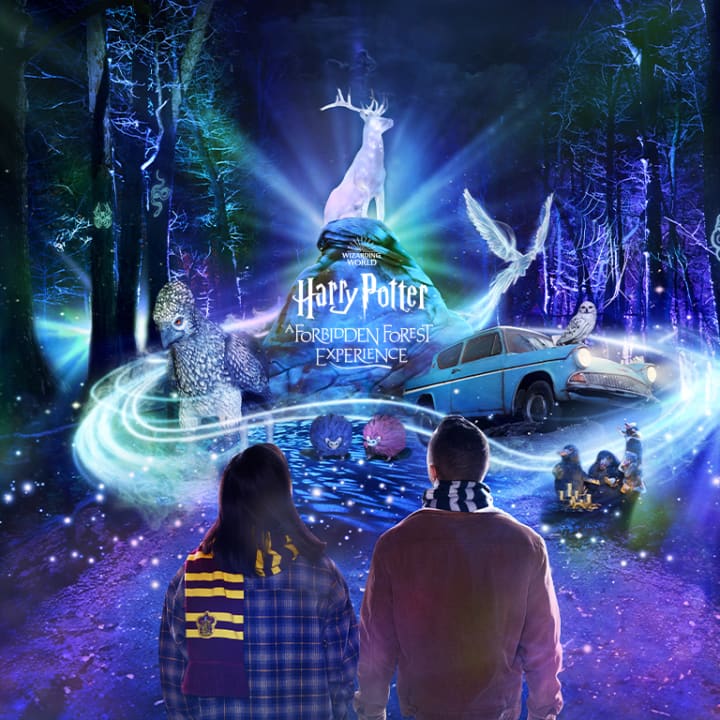 Harry Potter: A Forbidden Forest Experience
---